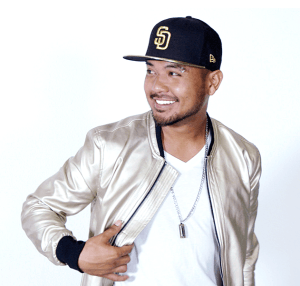 Born in Adak, Alaska and moved to Southern California's Naval Air Facility El Centro in February 1989 at the age of 3. In 1992, he and his family made the final transition to California where together they were able to flourish in the San Diego sun.
Jorandy Chavez received his Bachelors of Science in Graphic Design from the Art Institute of San Diego California. Jorandy Chavez's wide range of talents does not just begin and end with music. His savvy ability to execute technical projects is a huge part of his mental make-up.
His work history and advances range from the Lead Graphic Designer and Photographer for a high end West Coast Publication, San Diego Social Magazine to web and business development and design at Runningfish. He has designed websites and launched branding and marketing campaigns for a plethora of companies ranging from smaller start-ups to some recognized as larger Fortune 500 companies in the U.S..
Chavez has been a professional photographer for 6 years with work ranging from weddings, fashion & apparel, product photography and feature films debuting his work in many national publications as well as local media outlets. His experienced lead him to produce successful works in film serving as an essential partner in numerous creative productions.
Jorandy stems from a conservative military family with a father who served and exceeded twenty years in the United States Navy, along with a brother who followed his father's footsteps as a military official with the Navy, and a sister who is currently serving in the Army as a Medical Responder. Jorandy has branded himself as the only creative child going against all odds.